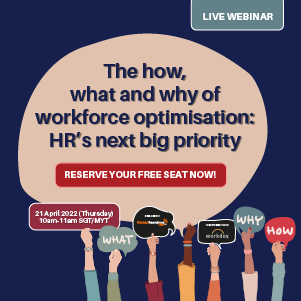 TIME
10am to 11am (SGT/MYT)
Picture a situation where your workforce is moving seamlessly between projects; contributing their expertise in one, learning new skills from another, and even chipping in on behalf of a colleague when they're out sick. While this seems like an ideal scenario, you often find staff complaining about heavy workloads, lack of bandwidth, and ultimately, burnout. This can be prevented with the right workforce optimisation strategy in place – one that allows all people managers to have access to a dashboard that provides visibility over staff schedules, roles, and most importantly, skills.
Against this backdrop, we invite you to join our upcoming 60-minute webinar, organised by Human Resources Online, in partnership with Workday, on workforce optimisation (WFO).
We look forward to having you join us on Thursday, 21th of April!
Look forward to the following takeaways:
Understanding the concept of workforce optimisation: Examples of WFO in practice.
The role of data in WFO strategy: Crafting a dashboard that forecasts labour demand & needed skills, optimises workforce resources, helps upskill & redeploy, and more.
Checklist for your HR team to embark on or to accelerate your workforce optimisation journey.
All done through a panel discussion among respected CHROs across Southeast Asia and live Q&A session!
Welcome address
Panel discussion featuring pan-Asia CHROs
Live Q&A (vote for your favourite question!)
Live demo of workforce optimisation tech
Summary of key takeaways