COVID-19 management
Putting paper plans to action: Ins and outs of drafting and executing a digital learning programme for your workforce
How do you sustain the business when the environment as we know it has been disrupted completely by natural forces? Time to turn to upskilling urgently.
Looking for ways to engage your employees during the COVID-19 pandemic?
Is your workforce fit to compete once the situation improves?
How do you keep your business up to speed to minimise the impact caused by the incoming recession? 
Considering the current situation, do you constantly ask yourself the questions above? In fact, it's not just you – from the CEO, to the CHRO, CTO, CMO and more, everyone is looking to or has already pivoted their 2020 business plans.
With an added pressure on headcount, profit and revenue, your HR department is trying to grapple with the changes. What we are proposing in this one-hour webinar is for you to stay ahead of the change. Don't just lead the digital transformation; accelerate it. Together with our qualified speaker from a reputable company in the financial services sector, we are here to help you hold a competitive edge.
Leverage on your people agenda to maximise the desired business financials. Yes, this is possible even during a downtime like now. Amplify your HR presence even more for bigger business benefits, right after this webinar.
How do you ensure employees are using their time productively irrespective of the place of work?
Boosting workforce morale in these tough times.
The need to emphasise business continuity through constant learning and development.
Apply these learning points back in the office:
A robust digital learning programme
What works best to suit the needs of the various learning curves of your employees and how to ensure continuous learning even while working remotely.
An integrated and all-rounded business continuity plan (BCP)
Come up with a comprehensive BCP that goes beyond the regulations and measures to integrate into your digital learning plan.
Problem-solving skills needed for crisis management
Co-create solutions with various business units to ensure organisation preparedness in times of uncertainty.
Proper execution techniques of BCP
Effectively transfer what's on paper and in theory to actual practice. Listen to some of the best practices and how these have been successfully adopted organisation-wide.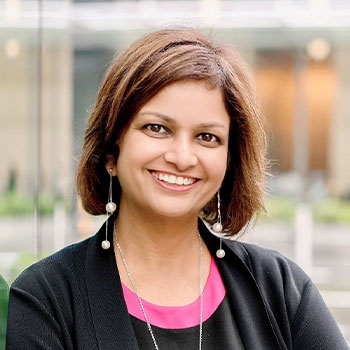 Speaker details:
Mukta Arya, Societe Generale
Mukta has over 21 years of experience positioning human resources as a business partner for excellence in multiple industries and global markets. Prior to Societe Generale, she served as the Mumbai Talent Head for Ogilvy and Mather as well as the Senior HR Manager in Tata TD Waterhouse Asset Management/Securities in Mumbai. In addition to her management experience, Mukta regularly speaks at HR events and authors HR industry publications.