Personal growth
The mindfulness approach: Keeping the workforce productive amid COVID-19 stresses
Looking for the calm during the storm? Look within because it's already inside you.
TIME
1030 – 1130am (GMT+8)
Each day, headlines bring news of new COVID-19 regulations imposed by various governments across the world to help curb its spread. While some countries are on a lockdown, others focus on encouraging preventative care. There has also been a run on everything from rice to toilet paper.
As frightening is the virus, so is the uncertainty caused by it. Hence if you're feeling anxious rather than productive, you're not alone. In times like this where morale can be undoubtedly low, practicing mindfulness to keep your spirit up has become crucial.
Let our speaker take you through a practical journey that will help to bring order to the distress and unease lingering around. Be prepared to face the reality of the situation and how to mitigate its impact through mindfulness techniques that will give you the strength to push forward.  
If you are looking to emerge strong during the COVID-19 panic, this one-hour webinar is the go-to resource to ease your worries.
Mitigating the impact of environmental stressors on mental health during times of crisis.
Identifying the risks and disruptions to flexible working arrangements.
Using mindfulness techniques to promote calmness, nourish resilience and enhance decision-making within employees during stressful times.
Apply these learning points back in the office:
Prevention, not cure
In the backdrop of the COVID-19 situation, be prepared to tackle its impact on organisational health before the situation spirals out of control.
Holistic support systems
Discover how your organisation can better support employees during periods of self-isolation and prolonged WFH arrangements.
Compassionate leadership beginning from the top
Learn how you can play a key role in nurturing mental health and overall well-being in a kind and compassionate way.
Employee empowerment
Empower your employees to make healthful decisions and take charge of their well-being in and outside work.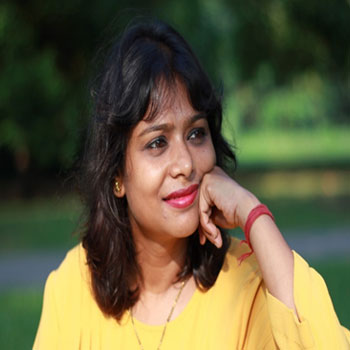 Speaker details:
Samprita Majumder, Global Benefits – APJ Leader, Dell Technologies
Samprita Majumder has 17-plus years of experience in diversified and cross-functional human resources, across verticals such as HR operations, L&D, employee relations and employee benefits. Before Dell, she worked 11 years at Cisco Systems, with more than decade of experience in the total rewards area.
She is passionate about working on employee wellbeing and digital transformation. She successfully led a benefits harmonisation project during the Dell and EMC integration. She has also led several regional and global benefits projects such as parental leave, moments that matter and digital transformation projects on benefits administration and wellness digital platforms.
One of the signature programme's initiated was parent counselling during the pregnancy period (healthy pregnancy programme/care nine). She is also passionate about designing benefits to provide an exceptional and high value employee experience.
Majumder is an ambassador of health and wellbeing, especially for mental health awareness, and facilitates personalised sessions on wellbeing techniques. She believes in innovation, finding new ways of doing things and crafting success stories out of blank paper. Outside of work she loves practising yoga, mindfulness and meditates regularly.