Thought leadership
Recession management: The impact on HR
How do you manage your workforce in a recession?
Against the backdrop of economic volatility and budget cut caused by global recessions, HR still remains as a crucial business partner in improving organisational performance.
As such, this webinar is crafted to help you look out for the megatrends that will be disrupting the HR function during uncertain periods. Join us as we will unravel the new dimension of HR's roles, capabilities and influence on business sustainability during a recession. This will include tackling how to be a smart business partner, offering cost-effective solutions that will help to improve bottom-line business productivity and help increase revenue.
Furthermore, you will leave feeling confident about navigating through the next three to five years as we help you prioritise the skill sets necessary to keep abreast of global challenges. What are you waiting for? Don't miss your exclusive opportunity to chat with our renowned Microsoft speaker who is tuning in all the way from South Africa!
Identifying the megatrends that will shape the world of work tomorrow.
The need to protect and grow your skill set to emerge stronger in times of uncertainty.
Capitalising on the gig economy to bring in specialised skills at affordable costs.
Lessons to bring back to office:
Retraining as a business tool
Understand why retraining is important – not just in the good times, but especially during the bad times.
Proactive not reactive leadership
Learn ways for leaders like yourself to remain forward-thinking and plan ahead.
Sustainability development models
Designing sustainable human capital development models that will help to continuously improve your employee performance.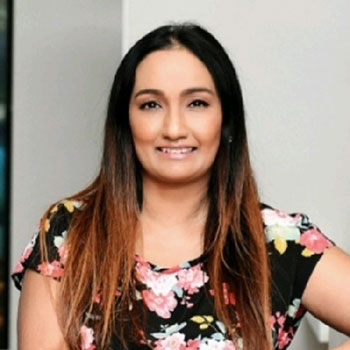 Speaker details:
Jasmine Pillay, HR Director, Microsoft South Africa